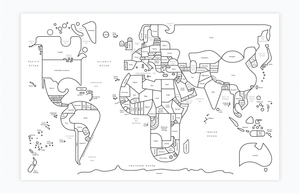 I get a little shocked that this is the whole entire world. It's like, THIS IS IT. 

This map is not exhaustive. It's an estimation of all the different manmade and natural borders in a super-simple way. This will evolve as these borders change, so consider this a time capsule of our moment in 2021. 
I was inspired to make this map due to the lack of travel in 2020. Being  stuck-in-one place really makes you realize how lucky we are to be able to go pretty much wherever we want most of the time.
11"x17" Letterpress Print