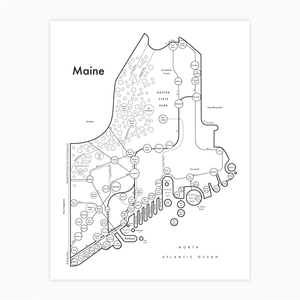 Maine, home of my father's family, has always had a very special place in my life. We would visit every fourth of July and Christmas to visit my grandparents. My grandfather was born in Fort Kent, waaaaaaay up north in Aroostook County, right next to Canada. He made it as far as Lewiston (the 2nd largest city in Maine), where him and my grandmother lived their entire adult lives. 
This one was tricky: Most of the population lives within the bottom 1/8 of the state, yet the shape of the Maine is totally iconic and needed to stay recognizable. It took a lot of editing and careful arranging to maintain that balance. 
I also had to deal with the coastline, over 3,000 miles squiggling through a relatively short span. Choosing the most noteworthy spots made an intimate knowledge of the state essential. 
8.5"x11" Letterpress Print
ABOUT THE IDEA
Information is more fun to read when it's beautiful. I've designed these charts and maps with hours of research, reassembling data into a brain-friendly aesthetic. I edit the information significantly, avoiding the "dazzle" effect which occurs when our eyes are battered with too much information. Letterpress makes it even more gorgeous.
ABOUT LETTERPRESS PRINTING
Letterpress is a very complicated and expensive printing method that I am obsessed with. All letterpress prints are slammed with 600 pounds of pressure, creating a deep, tactile texture. The ink gets embedded into the thick soft paper so it won't fade within your lifetime. Read more about letterpress printing here.
FRAMING
Your local frame shop is going to do a better job than anyone else. There's a reason this craft endures and cannot be automated: It's skilled work that is best done face-to-face in physical space.
See more framing ideas here.
Copyright 2020 Archie's Press