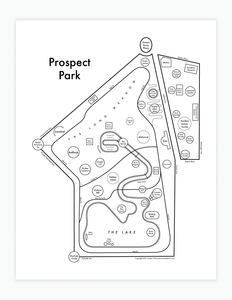 Olmstead's finest park and an exquisite oasis in Brooklyn. Every morning hundreds of dogs are let loose in the fields for off-leash time while horses clop along one of the last bridle paths in the city. It's easy to feel a little lost and even forget that you're in the center of the universe. 
ABOUT LETTERPRESS PRINTING
Letterpress is a very complicated and expensive printing method that I am obsessed with. All letterpress prints are slammed with 600 pounds of pressure, creating a deep, tactile texture. The ink gets embedded into the thick soft paper so it won't fade within your lifetime. Read more about letterpress printing here.
FRAMING

Your local frame shop is going to do a better job than anyone else. There's a reason this craft endures and cannot be automated: It's skilled work that is best done face-to-face in physical space.
See more framing ideas here.
Copyright 2021 Archie's Press