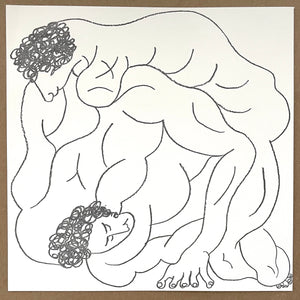 "Wrestlers" by Giovanni García-Fenech.
12"x12" Letterpress Print.
Graphite ink on Boxcar's Flurry 110lb paper. Neutral white.
Signed & numbered edition of 50. 
Printed & exhibited at Archie's Press, East Village, New York. 
García-Fenech is a New York-based painter. Brutes, his series of letterpress prints for Archie's Press, depict men in carnal disorder—violent, drunk, and even getting mauled by a bull. These dark subjects are subverted by the playfulness of Giovanni's lines, which transform them into animated, ornamental compositions.

Giovanni's paintings have been exhibited in New York City at galleries and museums such as PS1 Contemporary Art Center, The Hole, CHART, and Postmasters Gallery, and elsewhere at venues including the Indianapolis Museum of Art, the Living Art Museum (Iceland), Postmasters Roma (Italy), and Embajada (Puerto Rico).