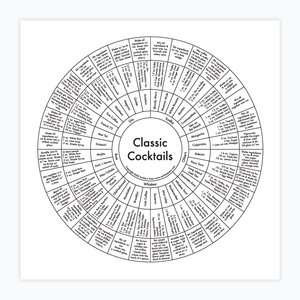 When I first applied for a job at a bar, the interviewer asked me how to make a sidecar. I had no idea. I must have said something funny because I got the job anyway (however, the bar closed six months later). Turns out none of these drinks are very difficult to make if you follow the instructions. And yes, the proportions matter. I whittled it down to 32 of the most "classic" that require instruction. My favorite recent discovery is the Brooklyn cocktail, slightly dryer than a manhattan, appropriate anytime of year.
8"x8" Letterpress Print
ABOUT LETTERPRESS PRINTING
Letterpress is a very complicated and expensive printing method that I am obsessed with. All letterpress prints are slammed with 600 pounds of pressure, creating a deep, tactile texture. The ink gets embedded into the thick soft paper so it won't fade within your lifetime. Read more about letterpress printing here.
FRAMING

Your local frame shop is going to do a better job than anyone else. There's a reason this craft endures and cannot be automated: It's skilled work that is best done face-to-face in physical space.
See more framing ideas here.
Copyright 2020 Archie's Press